At Yorkshire Caravans, we are thrilled to introduce you to the Isabella Winter Porch Awning – a true marvel of design and innovation. This porch awning is the answer to every camper's dream, especially during the winter season. We have selected the Isabella Winter Porch Awning as our November Awning of the Month, due to its exceptional features and to showcase why it's your perfect choice for your year-round outdoor adventures.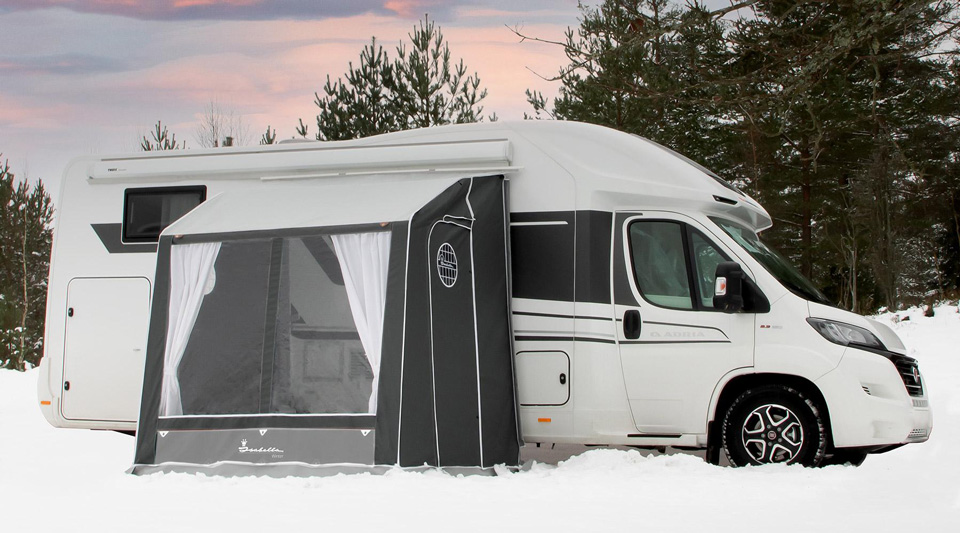 Isabella Winter Porch Awning Features
Heavy-Duty Materials for Unwavering Durability
The Isabella Winter Porch Awning is built to withstand the harshest of conditions. It boasts a Zinox frame, renowned for its strength and longevity. This robust steel frame forms the foundation of the awning, ensuring it remains steadfast even if nature throws its worst at you.
Crafted from easy-to-clean polyester/PVC material, this awning is both resilient and water-resistant. It can endure relentless rainfalls and snowstorms, keeping you dry and comfortable throughout your camping experience.
Snow-Proof Roof Angle
One of the standout features of the Isabella Winter Porch Awning is its special roof angle designed to prevent the accumulation of snow. This is essential for year-round camping as it ensures your awning stays free from snow and ice buildup. With this awning, you won't have to worry about the weight of snow damaging your shelter.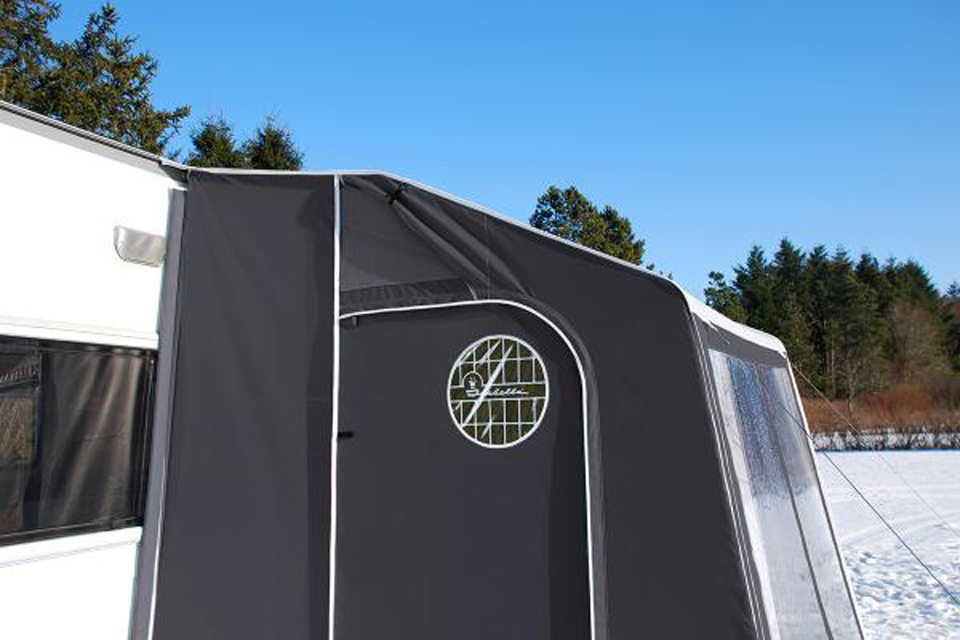 Mud Flaps for a Clean Interior
The extra-wide external mud flap serves as a protective barrier, preventing mud and water from finding their way into your awning. This is particularly beneficial in wet, snowy and muddy conditions, ensuring that the interior remains clean and dry.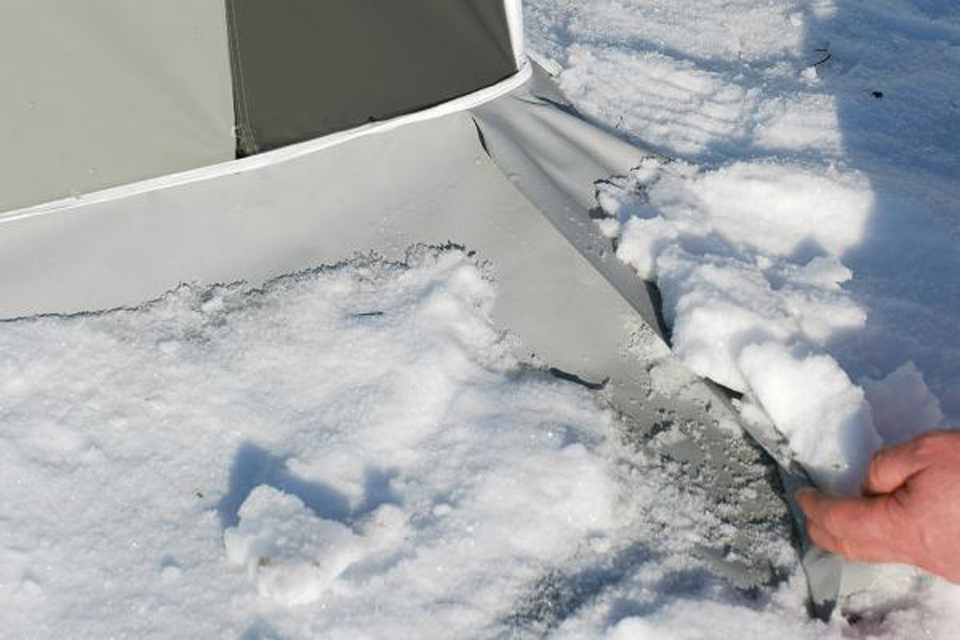 Extreme Temperature Resilience
Designed to tackle the most extreme temperatures, the Isabella Winter Porch Awning is equipped with window foil that can withstand frigid conditions. The heavy-duty film with a special frost-proof window foil ensures that you'll have a clear view of the winter wonderland outside, while staying cosy inside.
Double Doors and Zipped Ventilation
Convenience is key with this porch awning. It features doors on both sides, offering easy access and exit points for you and your fellow campers. Additionally, zipped ventilation can be found on both sides, allowing you to regulate airflow and maintain a comfortable interior climate.
Perfect Fit for Your Caravan or Motorhome
This awning boasts a width of 220cm, a depth of 180cm, and is designed to fit caravan and motorhomes heights between 235 - 250cm. This ensures that it accommodates a wide range of models, making it a versatile and adaptable addition to your camping setup.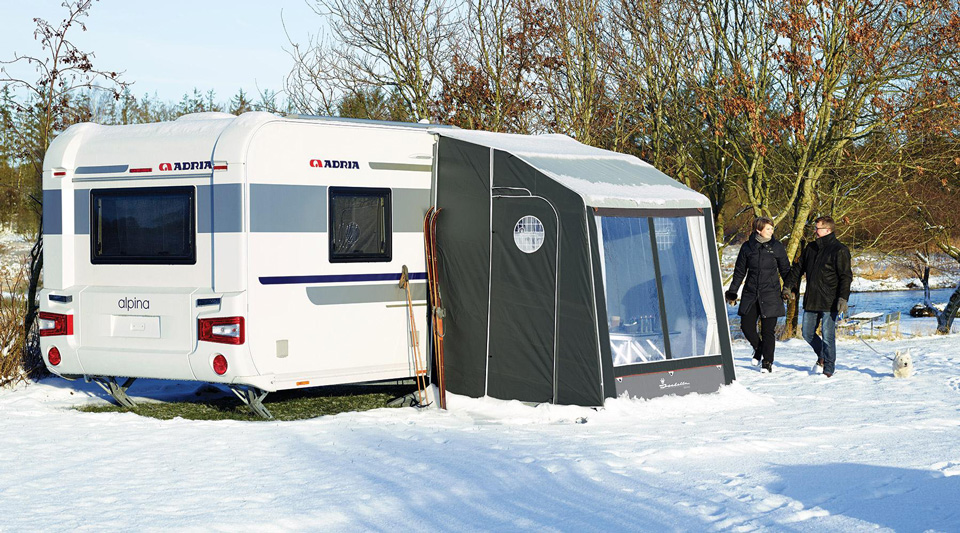 Isabella Winter Awning - What Do I Get?
When you choose the Isabella Winter Porch Awning, you're not just getting the awning itself because Isabella have truly thought of everything to enhance your camping experience. It comes as standard with:
A set of curtains
A draught skirt
Wheel arch cover
FixOn system
An awning bag
A pole and peg bag
A peg remover
Isabella Winter Specification
Width 220cm
Depth 180cm
Caravan heights between 235 - 250cm
Straight rail measure 234 cm
Wing measure 2 x 7cm
Tunnel length 206cm
Weight incl Zinox / Prenox 27.5kg
Weight 14.7kg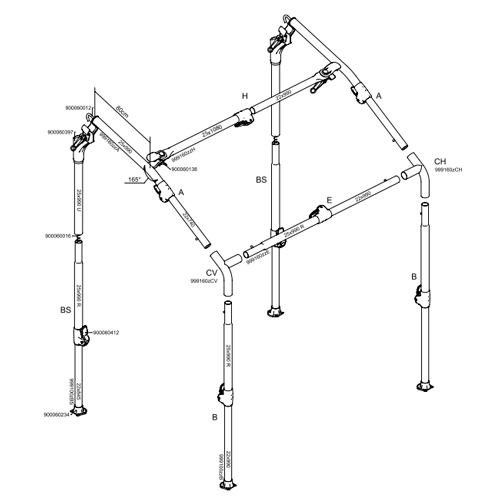 Optional Extras for Enhanced Comfort
For those looking to take their comfort and convenience to the next level, Isabella offers optional extras. The inner roof liner, easy to install and visually pleasing, hides the roof poles, promotes thermal regulation, and absorbs condensation, creating a more comfortable living space within your awning. The added zip in the inner roof allows you to pull lamp cables through, providing a warm and inviting ambiance.
For those braving the heaviest snowfall, the Winter Securing T-Rex Kit is an invaluable addition. This kit provides extra support for the roof, consisting of four extra rafter poles, a central support pole, and two support poles for the ends. These poles are constructed from tensile strength Zinox, just like the rest of the winter awning frame.
Enhanced Product Warranty
When you register your brand new Isabella Winter for the Isabella Club, you'll get 1 year EXTRA guarantee i.e. a total guarantee of 3 years from date of purchase. Click below to register your product, once it has arrived with you.
Isabella Winter Available now at Yorkshire Caravans
The Isabella Winter Porch Awning is a true game-changer for campers who seek year-round experiences. Its heavy-duty materials, snow-proof design, mud flap protection, extreme temperature resilience, and versatile size make it an ideal choice for your next adventure. With the optional extras and the Winter Securing T-Rex Kit, Isabella has considered every detail to provide you with a comfortable and secure shelter in any season.
The Isabella Winter Porch Awning is in stock both online and in-store at Yorkshire Caravans, ensuring that you can acquire this exceptional product for your camping adventures without delay today!