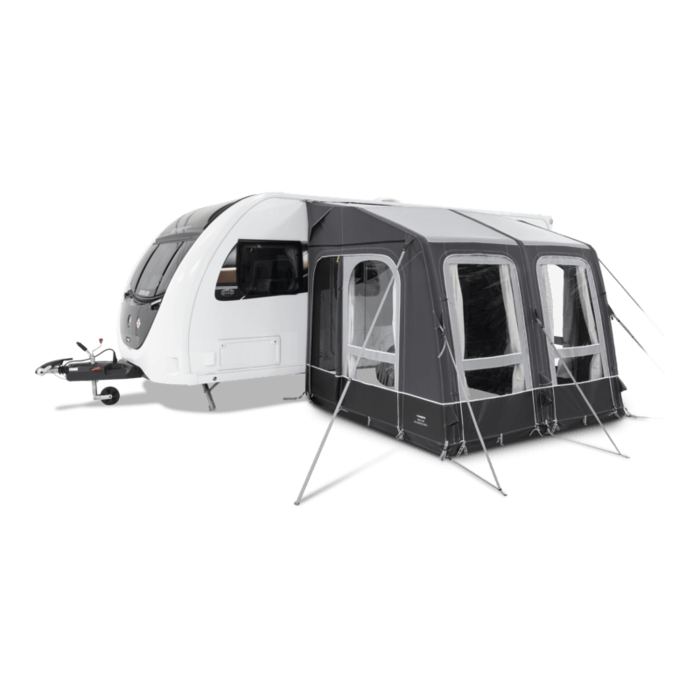 Dometic Rally AIR All Season 260 S Inflatable Static Awning
2.6 m width – 2.5 m depth
A quick and easy compact awning perfect for use throughout the year
The ground-breaking versatility of the new Dometic Rally AIR All-Season 260 S enables it to fit a variety of leisure vehicles. Its patented Multi-Height System, ranging between 235 cms x 265 cms, means that it can be used with both caravans and motorhomes with a keder connection that's adjustable to various heights allowing seamless connection to your vehicle.
It features Dometic's All-Season ultra-rugged and UV resistant fabric which is more durable, breathable and colour fast than the Pro fabric making it ideal for longer term pitching. The breathable fabric, together with the apex ventilation, improves comfort by increasing air circulation and reducing condensation and because of its durability it is better suited than the Pro for use in hotter climates.

The front and side panels can be zipped out and removed to reduce weight making the awning easier to thread onto the caravan and the generous floor dimension maximise the livable space of your pitch.
Together with single point inflation Air Frame technology ensuring strong structure and easy set up this awning really is the perfect small inflatable awning.
Key Features
Air Frame Awning
UV Resistant Fabric
Fits a variety of Leisure Vehicles
Suitable for hotter climates
Breathable, colour fast fabric
Removable panels
Keder connection allows seamless vehicle connection
Single Point inflation from one external point allows for put up speed. The multi height system ensures fitment across a multitude of vehicle heights. Zip out panels reduce the awnings weight and offer more open space. WEATHERSHIELD™ ALL-SEASON is a ultra-rugged and UV resistant material for touring in hot climates and seasonal use. Apex Ventilation improves comfort by increasing air circulation and reducing condensation. 
Dometic Rally AIR All-Season 260 S Floorplan
This air framed awning offers a generous extension to the livable area on your pitch. Ideal for al fresco dining, additional guests or simply extra storage space whilst on your caravan trip.
Shop Now
This air awning comes as standard with carry bag, curtains, hand pump, draught skirt, storm straps and pegs. It is currently £1,415.00 and is in stock on our website.